Bachelor Of Business Administration- (BBA): Course Details, Fees, Eligibility, Courses, Admission
About Bachelor of Business Administration (BBA)
Bachelor of Business Administration (BBA) is a 3-year undergraduate course pursued after class 12th. BBA helps in developing the entrepreneurship skills of the candidates. BBA combines business-related courses and generic courses. BBA can be pursued by students from all fields, i.e. Science, Commerce, and Arts. Popular BBA specializations include Marketing, Finance, and HR Management. BBA course offers numerous career opportunities in domains like Finance, Education Marketing, and Sales.
Candidates can pursue BBA by taking entrance exams such as SET, DU JAT, IPMAT, CUET, and AIMA UGAT. The entire BBA syllabus is divided into six semesters, meaning two semesters each year are to be completed by the candidates. BBA subjects include Principles of Management, Macroeconomics, Human Behaviour & Ethics at Workplace, Management Accounting, Banking & Insurance.
A candidate can choose one of the three courses BBA General, BBA Banking and Insurance, and BBA Computer-Aided Management. Students can also avail themselves of BBA dual degree courses like the BBA LLB course which is a 5-year long course where both the courses are independently taught. BBA course fee ranges from INR 50,000 to INR 6 lakh and above.
The top BBA colleges in India are NMIMS Mumbai, IIM Rohtak, IIFT Delhi, IIM Ranchi, SSCBS Delhi, and ICFAI Foundation for Higher Education. Some of the top BBA job profiles include Business Development Executive, Marketing Associate, Travel and Tourism Manager, Event Manager, etc.
BBA Course Highlights
Given below are the most significant highlights of the BBA programme:
Particulars

Details

Full-Form of BBA Course

Bachelor of Business Administration

BBA Admission

Merit and Entrance Based

Course Level

Undergraduate

BBA Duration

3 years Divided into Six Semesters

Types of BBA

Online BBA

Full-time BBA

Part-time BBA

Distance/ Correspondence BBA

BBA Eligibility

Passed 10+2 in any stream from a recognised university

BBA Admission Process

Merit-based and Entrance-exam based

BBA Entrance Exams

IPU CET exam, DU JAT exam, NPAT exam, UGAT exam, SET exam

Major Specialisations

Sales and Marketing, Finance, HR, International Business, Entrepreneurship

BBA Course Average Fees

INR 50,000 – INR 2,00,000

BBA in IGNOU Fees

INR 60,000

BBA Average Salary

INR 3 LPA - INR 5 LPA

BBA Specialisations

BBA Finance

BBA Marketing

BBA International Business

BBA Syllabus/Subjects

Principles of Management

Business Economics

Accounting – Financial and Management Accounting

Business Mathematics

Marketing Management

Statistics

Operations Research

Production and Material Management

Personnel Management and Industrial Relations

Top Recruiters

Deloitte

Accenture

Deutsche Bank

HDFC Bank Pvt Ltd

EY (Ernst & Young)
List of Institutes Offering BBA Courses:
| | |
| --- | --- |
| Name of Institute | Admission Procedure |
| Narsee Monjee Institute of Management Studies | NPAT Admission |
| Symbiosis International Deemed University | SET Admission |
| Bharati Vidyapeeth Deemed University | BUMAT Admission |
| Christ University | CUET Admission |
| Delhi University | DU JAT Admission |
Bachelor of Business Administration (BBA) Specialisations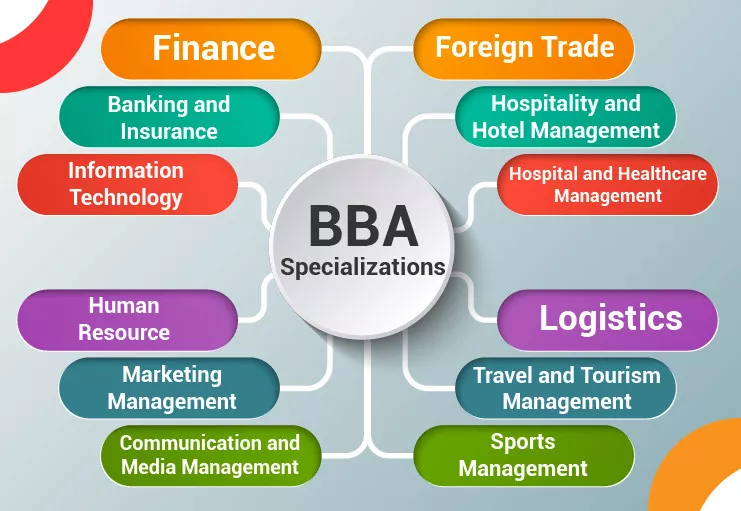 | | |
| --- | --- |
| Finance | Foreign Trade |
| Banking and Insurance | Hospitality and Hotel Management |
| Information Technology | Hospital and Healthcare Management |
| Human Resource | Logistics |
| Marketing Management | Travel and Tourism Management |
| Communication and Media Management | Sports Management |
Also Read: General Management Certification Courses
Bachelor of Business Administration (BBA) Syllabus
Pursuing a Bachelor of Business Administration course provides a base for MBA/PGDM programmes. Bachelor of Business Administration or online BBA course is completed in a duration of three years which is further divided into six semesters. Given below is the BBA subjects list based on the yearly plan of the BBA course. Here, we have discussed all the BBA subjects list in the below tables.
Also read: 7 Best Online MBA Specialisations with Eligibility, Fees, and Admission Process
1st Year

Human Resource Management I

Business Law I

Effective Communication I

Quantitative Methods I

Principles of Management I

Principles of Management II

Managerial Economics

Computer Applications

Financial Accounting

Management Accounting I

2nd Year

Business Environment

Quantitative Methods II

Business Management

Financial Management I

Project Work

Managerial Economics II

Management Accounting II

Human Resource Management II

Business Law

Effective Communication II

3rd Year

Operations Management

Taxation

Research Methodology in Management

Marketing Management

International Marketing

Export/Import Management

Public Relations Management

Project Management
Also read:
10 Most Affordable Online MBA Programs for Students in India
7 Reasons to Pursue an Online MBA Degree
Types of Bachelor of Business Administration
BBA is an undergraduate degree offered by various educational institutes and has no type. However, there are many specialisations in BBA which are discussed later in this article.
Read more:
Advantages and Disadvantages of Online MBA Course
Is Online MBA Recognized by UGC?
Advantages of doing Bachelor of Business Administration
The BBA course provides quick opportunities to acquire skills important in a profession
As one moves out of his school life, he will be exposed to the professional world. The lessons will help him acquire important professional and management skills. It will help him understand risk management skills and make decisions as a leader. It also sharpens one's thinking on various strategies and stages of running a business or becoming an entrepreneur.
BBA course covers the entire phase of basic management
Over the course of three years, the BBA Course helps an individual learn the most basic management skills. The programme covers a wide range of topics ranging from financial and advertising management, business economics, business law, accounting policies, IT and computer basics, and more. A Bachelor of Business Administration degree is not just a degree but is actually a complete approach to management.
BBA Course is a large management-focused programme
The BBA course enables an individual to manage large corporations and qualifies for multidisciplinary management positions. If one has just completed a B.B.A. degree then he will be ready as an executive, operations manager, loss prevention manager, cost evaluator, procurement and sales manager.
Pursuing a B.B.A makes you financially independent with less investment than an M.B.A
One of the benefits of having a B.B.A is that it gives you the bachelor of business administration job opportunity to be independent at a young age.
Also read: Online MBA vs Executive MBA: Choose the Better
Browse BBA Colleges by States
| | |
| --- | --- |
| BBA Colleges in Karnataka | BBA Colleges in Tamil Nadu |
| BBA Colleges in Uttar Pradesh | BBA Colleges in Maharashtra |
| BBA Colleges in Kerala | BBA Colleges in Madhya Pradesh |
| BBA Colleges in Punjab | BBA Colleges in Haryana |
| BBA Colleges in Delhi NCR | BBA Colleges in Rajasthan |
Read more: Top Business Schools for Online MBA Programs in India
Browse BBA Colleges by Locations
| | |
| --- | --- |
| BBA Colleges in Delhi | BBA Colleges in Delhi NCR |
| BBA Colleges in Bangalore | BBA Colleges in Mumbai |
| BBA Colleges in Pune | BBA Colleges in Hyderabad |
| BBA Colleges in Chennai | BBA Colleges in Ahmedabad |
| BBA Colleges in Kolkata | BBA Colleges in Jaipur |
Also Read: Is an Online MBA Valid in India?
Scope of BBA
A BBA graduate has a varied bachelor of business administration job options at the forefront. BBA graduates can either prefer to work in India or can apply internationally. The scope of the BBA online course is wide as an individual can work in domains like sales/marketing, business development, administration and management, BBA degree has greater value if compared with B.Com or other undergraduate degrees.
Top leadership positions can be gained with a BBA degree in hand along with some years of experience. Business is growing and so is the desire amongst youngsters to pursue a degree in business administration. BBA degree can be possessed by candidates after completing class 12. Hence the BBA degree is on the increasing trend as managerial positions are filled by only those candidates who possess the calibre of taking good decisions, qualities of several kinds, Moreover, with upliftment in career, the salary of BBA graduates also keeps increasing.
Also Read: How Can an Online MBA Degree Benefit Your Career?
Scope: Top courses to pursue after BBA Degree
Candidates who do not wish to take up a job immediately after pursuing a BBA degree are unable to find a suitable job that matches their expectations and are usually get inclined toward pursuing a Master's degree. After completion of the BBA online course, a candidate has varied options if he/she wishes to pursue any further course/degree. Major courses are mentioned below:
MBA
Master of Business Administration is the most sought-after BBA degree by fresh graduates and experienced holders as well. To take admission into IIMs and various top B-Schools other than IIMs cut-throat competition amongst candidates is visible. Master of Business Administration commonly known as MBA is a two years degree programme whereby candidates learn about business administration tactics. MBA can opt for a full-time degree or part-time MBA or distance MBA. Some of the institutes also provide executive MBA degrees nowadays. An MBA degree is more theoretical knowledge.
Quick Links -MBA Admission Process
Popular Colleges in India offering MBA
| | |
| --- | --- |
| UPES Dehradun | LPU Jalandhar |
| SRM University Chennai | GD Goenka University, Gurgaon |
| Chandigarh University | BML Munjal University, Gurgaon |
| Manipal University (MAHE) | Jaipuria Institute of Management, Noida |
| IPE Hyderabad | IFIM Business School |
MMS
If due to financial issues candidates are unable to get into a good college offering an MBA degree, then a Master of Management Studies is another alternative that can be pursued by candidates. The eligibility criteria to apply, duration of completing the MMS degree, and the structure of the course, are similar to the MBA degree to a great extent. Candidates pursuing MMS courses are given complete knowledge about management studies and entrepreneurial skills.
PGDM
Just in case candidates wish to have practical exposure to the actual/ on-the-job profile, then they have the option to pursue a PGDM course. There are many differences between MBA & PGDMcourses. MBA is a degree course that is offered by Universities whereas a PGDM is a just diploma course that is offered by institutes that are autonomous. Before opting for any PGDM college/institute, candidates are advised to check the authenticity of that particular institute. PGDM course also has a well-structured and updated curriculum. Companies nowadays are also hiring candidates who have completed PGDM courses on good packages.
Also Read: Top Free Online MBA Courses with Certificates in India
Career Opportunities After BBA
What after BBA? This is the most common question that candidates find answers to before applying or after completing. For candidates who have completed a Bachelor of Business Administration, ample opportunities are available in the market. Extensive options are available to explore and choose from according to the candidate's interest. The most common and widely selected career options after Bachelor of Business Administration or BBA course are listed below and have great benefits in the long run.
Getting a Private Job - Campus placement can help candidates get a good job in any reputed private firm with a good salary base to earn and have a better livelihood. There are some candidates who do not take up the campus placements but rather look for more opportunities by themselves in any private organisation.
Enrolling for Master's degree - If candidates are unable to get a job as per their expectation after BBA degree or is willing to go for further studies to have a competitive advantage over other candidates then, the candidates can enrol themselves in any top B-School to pursue a master's degree. Varied options like MBA, MMS, M.A., and PGDM are available to candidates nowadays.
Clearing Competitive Exams - Some candidates are inclined towards getting a government job. Such candidates can opt for preparing for a government exam. Clearing such exams will help them bag good positions if candidates possess BBA degrees. Initially, the salary package may be on the lower side, but an increasing number of experience in the government sector will be beneficial with a lower burden of work.
Initiating Startups - Candidates can start their own business firms after completing a BBA degree if they have a great idea and hence can become entrepreneurs. These days, a lot of government initiatives like Start-up India and Digital India, are there to help and support such entrepreneurs in starting their own businesses. It is, however, advisable to first work somewhere, gain knowledge on all aspects and then begin your own business.
Law - LLB /Bachelor of Law is another option available to candidates who wish to make a career in the law domain. LLB is a three-year graduation-level degree. Candidates need to clear the law entrance exam to take admission in top law colleges of India.
Teaching - If candidates wish to move ahead in the teaching domain, they can continue the same by sharing their knowledge with others as a career option after BBA. Initially, candidates can start giving private tuition to others, and with hands-on experience, they can apply to any good educational institute. Teaching is a good career option to make money.
CA - Another career option after BBA is pursuing a Chartered Accountancy course. It takes almost five years to complete the entire course after a BBA degree. If candidates are interested in accounts, tax, they can opt for a CA course.
Quick Links - NMIMS BBA Fee
BBA Salary in India
An increasing number of candidates are getting allured to pursue a Bachelor of Business Administration or BBA course owing to the attractive salary package that is offered by the private and public sector to BBA graduates. Apart from that lucrative positions are also offered and chances of career advancement are there. BBA course allows candidates to earn well and have a better life as compared to other graduate courses like BBM, B.Com, In India, major recruiters hiring BBA graduates are Tata Consultancy Services Limited, Accenture, Ernst & Young and Deloitte. Such big companies pay a high scale salary to the BBA graduates.
The initial salary offered to any candidate holding a BBA degree is somewhere between Rs. 15000 to Rs. 20000 in hand. However, there are certain factors that usually determine the salary of a BBA graduate like the reputation/ranking of the company, skills possessed by the candidate, and graduating institute, however, it is seen that salary is not an issue when a candidate possesses managerial skills, leadership qualities, decision-making abilities and perseverance.
Candidates having a BBA degree are hired by companies like Tata Consultancy Services Limited, Ernst & Young, Infosys, and Accenture, for various positions. The average salary package offered by big brands to candidates having a BBA degree is between Rs. 30,000 to Rs. 1 lakh per month. Experience holders might bag a better package yearly after having a BBA degree.
Read more: What is the Scope of an Online MBA?
Browse Management Colleges by Location
| | |
| --- | --- |
| Top Management Colleges in Bengaluru | Top Management Colleges in New Delhi |
| Top Management Colleges in Hyderabad | Top Management Colleges in Chennai |
| Top Management Colleges in Pune | Top Management Colleges in Indore |
| Top Management Colleges in Mumbai | Top Management Colleges in Lucknow |
| Top Management Colleges in Kolkata | Top Management Colleges in Jaipur |